Walking with My Mother
(Japanese title "Houyo")
Directed by Katsumi Sakaguchi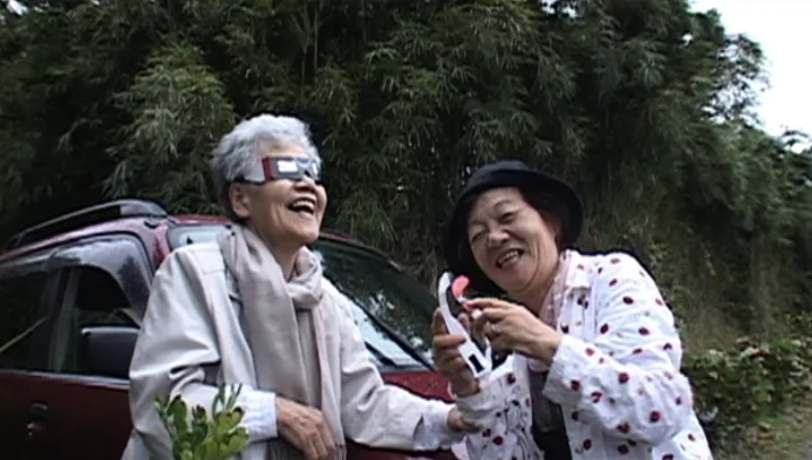 (27th Tokyo International Film Festival "Japanese Cinema Splash" official selection)
When you lose someone dear, how do you go on living your lives?
Suchie (78) is distraught after losing her daughter and then her husband. Countless tranquilizers were given to calm her. Her son, Director Katsumi Sakaguchi turns to his camera to understand her more. When Mariko arrives for the funeral and sees her sister's despair, she decides to take her back to their hometown for the first time in 38 years. Here, Mariko devotes her life to her sister. Her son reveals four painful years of her distress and conflict through the camera. Grief always comes after the sadness of losing those closest to us. What rescued her from it?
Trailer: http://youtu.be/c9w4gNbpo94
Theatrical release(With English subtitles):
14 Nov. 2015 at Pole pole Higashi Nakano (Tokyo, Nakano-ku) with English subtitles
(Pole pole za blid B1, 4-4-1,Higashi-Nakano,Nakano-ku,Tokyo 164-0003 TEL(03)3371-0088)
Nov 14 (Sat) – Nov 20 (Fri): 10:40 / 15:30; Nov 21 (Sat) – Dec4 (Fri): 21:00
General: ¥1,800, University students: ¥1,300, Senior: ¥1,100, Students (Junior-high/High school):¥1,000
Advance tickets:¥1,500. Also repeater discount is available. Call the theater for details.
13 June 2015 at Cinenouveau(Kujo,Osaka) On sunday , screen with English subtitles
June 13 ~ June19 10:40 and 20:20
June 20 ~ July 3 10:20
July 4 ~ July10 13:30 (at Cinenouveau X)
25 April 2015 at Theater Image forum(Tokyo,Shibuya) with English subtitles
(2-10-2, Shibuya, Shibuya-ku, Tokyo 150-0002  TEL (03)5766-0114) MAP
  May 8 10:30 and 21:15 / May 9 ~ June 12 10:30
  General:¥1,800/Student:¥1,200/Senior:¥1,100
Director, Cinematographer, Editor: Katsumi Sakaguchi
Director of 200 TV documentaries on families and young adults. Debut film "Blue Tower" (2001) and follow-up "Catharsis" (2002) were screened at many festivals and had theatrical releases in Japan and Germany. His third film "Sleep" (2011) premiered at Rotterdam, and received a rave review in Screen International. Chief critic Mark Adams said, "SLEEP is an impressively subversive and grim tale, but also well made and disturbingly watchable". "Atomic Bomb Home"(2012) is his first feature documentary. His next feature is "A Dance for Blue Whales"(Release in 2015 summer at Euro Space). Also wrote the novel "Tozasareta Gekijo".
Producer,Editor: Atsuko Ochiai
In 1998, she became an assistant director of TV documentary and build up her career. She produced six feature films and feature documentary directed by Katsumi Sakaguchi. "Blue Tower"(2000),"Catharsis"(2002), "Sleep" (2011) ,"Atomic Bomb Home"(2012), "Walking with My Mother"(2014),and "A Dance for Blue Whales"(2014).
CAST
Suchie Sakaguchi
Mariko Miyazono
Satoshi Sakaguchi
Katsumi Sakaguchi
CREW
Director & Cinematographer & Editor: Katsumi Sakaguchi
Producer& Editor: Atsuko Ochiai
Music&Piano: Atena Osawa
Soprano Sax: Yui Saito
Alto Sax: Kohei Wakayama
Music Recording: Satoshi Ipponjima 
Sound designer: Hirofumi Yamashita 
Title & Visual Design: Nao Ozawa
English Subtitles: Akiko Shiragami 
World Sales & Editing Advisor: Toshiyuki Hasegawa
TECHNICAL INFORMATION
Original title: Houyo / Documentary/16:9/ Color/93min./ Japanese with English subtitles/2014/Japan
PRODUCTION COMPANY
SUPERSAURUS
Address: 1-6-6 Irifune,Chuo-ku,Tokyo 104-0042 Japan
Tel: +81 3 3551 5530 Fax:+81 3 6893 6516 Email:
URL:
WORLD SALES
Toshiyuki Hasegawa